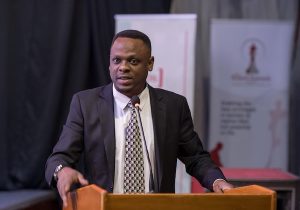 Justus Mirembe has lived and worked in Vancouver British Columbia, Canada for almost 20 years. His educational background is in Forensic Criminology, majoring in Crime and Intelligence from both Douglas College and the British Columbia Institute of Technology (BCIT). Justus has worked for the Canadian Federal Government for 17 years. He is currently a member of a select specialized Federal Armed Elite Unit specializing in enforcement of Inter-Provincial and International Trade in Endangered Species of Flora and Fauna. Canada and Uganda are among over 180 countries that are signatories of the Convention on International Trade in Endangered Species (CITES) and part of Justus's duties are to enforce the export and import and illegal trade of wildlife. You may run into Justus at any major Canadian point of entries specifically at airports and border crossing
Outside of his profession, Justus has a track record of waving the Uganda flag high through community service in Canada dating back almost 20 years when he first landed in Canada. Justus recently served as Director of British Columbia Soccer Association (BC Soccer) for two and half years (2017 – 2019). BC Soccer is the largest provincial sporting organization with a membership of over 120,0000 kids, women and men representing FIFA officially in the region through Canada soccer. As BC Soccer Director representing the districts of Vancouver and Richmond, Justus was responsible for the organization's over $5,000,000 annual budget. BC Soccer was part of the bidding committee that successfully won the bid to host the 2026 FIFA World Cup that will be held in Canada, USA and Mexico.
Justus is currently one of the Canadian Council Representative of the Uganda North American Association (UNAA) where he is serving his second 2 year term (2017 – 2021) representing the Pacific Region of British Columbia. Justus was also one of the organizing committee member that hosted the 1st Uganda Canada Business Convention in 2012 that was held in Vancouver , British Columbia and has assisted in the 2 previous Uganda Canada Conventions that were held in Toronto in 2018 and 2019. He is therefore looking forward to Co-Chairing the 4th Annual Uganda Canada Business Convention to be held on July 3- July 5, 2020 in Toronto. One of the quotes that drive Justus's motivation for community service comes from one of his heroes Mahatma Gandhi who said "The best way to find yourself is to lose yourself in the service of others" these words keep Justus's passion of always offering a helping hand to those in need.
Email — ugcanadianconvention@gmail.com Website — www.ugandacanadaconvention.com