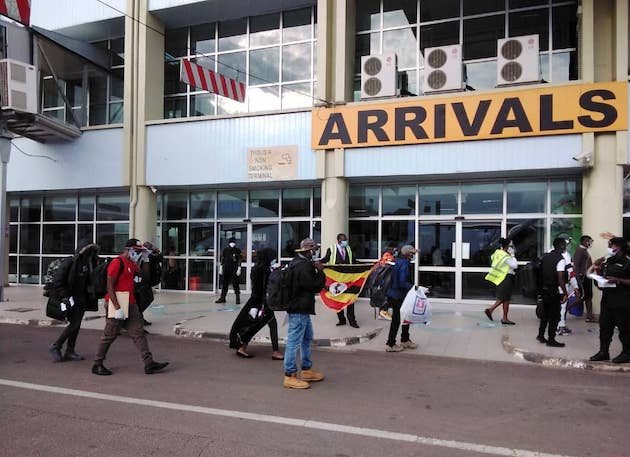 1.Uganda electronic visa;
All Visa Applications are submitted online through the link below:
Click on the start button shown in Red.

Accept the terms and conditions displayed in the Disclaimer.

Select the application type, Category, Sub category and period of stay.

Fill the application (Electronic)Form and proceed to Step 2 of the application process.

Upload all the required documents (attention to format i.e., PDF, JPEG, PNG and BMP and size 5-250KB for each attachment.

Make a payment (as indicated on the facility applied for) either online or using a payment advice form generated from the web portal.

Submit your application (remember to take note of your application ID)
General Information
NO VISA IS ISSUED ON ARRIVAL.

Holders of Conventional Travel Documents bearing nationalities of visa exempt countries to Uganda do not require a visa to enter Uganda regardless of the country issuing the Conventional Travel Document.

Nationals of countries below are exempted from visa requirements to Uganda. However, they need to have their valid passports issued by their respective countries.
Members of COMESA
Angola, Comoros,Eritrea,Malawi,Madagascar,Seychelles,Swaziland,Zambia and Zimbabwe.
EAC
Tanzania,Rwanda,Kenya and Burundi
Others exempted are:
Antigua &Barbados, The Bahamas, Belize, Fiji, Gambia, Granada, Jamaica, Lesotho,Malta, Malaysia, Sierra leone, Singapore,Solomon Islands, St Vicent & the Grenadines,Tonga,Vanuatu and Cyprus.
2.Passports;
THE MACHINE-READABLE PASSPORTS WILL BE PHASED OUT ON 4TH APRIL 2022
All passport applications are submitted online through the link below:
-The High Commission can only renew passports for those with expired passports, replace lost passports, damaged and mutilated passports.
-We cannot issue passports to children born to Ugandan Parents in Canada since the Ugandan law does not allow dual citizenship for minors.
Follow the following steps to make the online passport application;
Log onto the passport portal

www.passports.go.ug

Accept the terms and conditions displayed in the disclaimer.

Answer simple security questions

Complete passport application form. Applicants are advised to fill in their details of origin. This for example are details of your village/burial ground in Uganda not your residential address in Canada.
The Details of your parents whether alive or deceased should be filled in and their origin should be their villages where they hail from not residential addresses in Uganda.
Generation of origin is your clan and two contemporary descendants are the names of your grand parents on the father's side.
Make payment for the selected type of passport using the selected payment method, either online payment using visa card or you can generate a payment receipt for over-the-counter payment and a person in Uganda can pay for you.

Print the passport application form after payment.

Report to the selected passport center with the passport application form and the following;

2 Passport size photos (2 by 2 inches coloured with a white background)

Current old passport

Copy of National ID (if any)

Copy of recommender's Ugandan National ID

Letter from your recommender addressed to the Passport Control Office, Directorate of Citizenship and Immigration Control, Ministry of Internal Affairs, Kampala.

Printed out payment receipts

Identification/Immigration status in Canada

Letter of applicant requesting for renewal/replacement of passport (addressed to the Passport Control Office, Ministry of Internal Affairs-Kampala)

Proof of profession in case you're changing from that in the old passport.

Police report in case of lost passport.

Birth certificates for applicants below 18years and a written consent from both parents allowing the minor to be issued with a passport. This letter should be addressed to the Passport Control Officer, Directorate of Citizenship and Immigration Control, Ministry of Internal Affairs, Kampala.
Also attach copy of parent's bio data page of passports and page 45 with the file number plus copies of their National IDs.
NOTE: Due to the restrictions that have been brought about by the Covid-19 pandemic, we are receiving submission of passport applications by mail. Applicants are advised to verify and ensure that all requirements have been fulfilled. Please avail the High Commission with a call back number for a virtual interview and any additional information that may be required.
Include a prepaid self-addressed return envelope in the package you're mailing to the High Commission for posting your E-passport.
Please note that we also give support letters in case the applicant is making an express passport application and would like the passport to be processed directly from Kampala.
-Write a formal letter requesting for a support letter addressed to the High Commissioner, in this letter please mention the name of the person submitting the application and collecting the E-passport on your behalf.
-Attach a copy of the National Identity card of the person submitting the application/collecting passport.
-Attach a copy of the online application.
-Attach a copy of your passport bio data page
-Attach a copy of a resident permit/driver's licence for proof of address.
3.Dual Citizenship;
Dual Citizenship is a type of Citizenship which allows one to hold two nationalities.
Dual Citizenship also comprises of two different categories;
Dual Citizenship by indigenous Ugandans
This is for Ugandan Citizens by birth who ceased to be citizens of Uganda by voluntarily acquiring citizenship of other countries and in accordance with the repealed constitutional provisions they are entitled to regain their Ugandan Citizenship upon application.
Children below 18 years are not entitled to acquire dual Citizenship according to the laws of Uganda.
Children holding foreign passports should apply for a Dependents pass which is granted until they are 18years and they can apply for Dual Citizenship if they are interested.
Conditions to be fulfilled
Applicant must be 18 years and above

The other country recognizes dual citizenship under its laws

Applicant is only a citizen of one country and where the person is a citizen of more than one country there must be proof of renunciation of the third country.

He/she is not engaged in espionage against Uganda

One is of sound mind

He/she has not served in the voluntary service of armed forces or security forces of a country hostile to Uganda.
Checklist for Dual Citizenship Applicants (indigenous Ugandan)
Please follow the steps below to make the online application for Dual Citizenship
Log onto

www.visas.immigration.go.ug

Accept the terms and conditions displayed in the disclaimer

Select citizenship as the type of application

Choose from the categories displayed

After completion of the online application, the applicant will be required to upload a duly completed dual citizenship application form AA signed and notarized.

Recommendation letter and National identity card of the recommender (Ugandan by birth of substantial standing)

Proof of being former Ugandan (Copy of Ugandan passport/parents' passport/National ID) and page 45 of the old Ugandan passport/file number)

Copy of Birth certificate for applicants born outside Uganda.

Current Bio Data Page

Recent passport size photograph

Notarized oath of allegiance (Download and re-attach duly signed form)

Proof that the other Country allows Dual Citizenship

Proof of profession/occupation (Attach academic documents/employment ID)

Cover letter from applicant (Addressed to Secretary National Citizenship and Immigration Board)
Digitization of citizenship
All applicants who have the manually issued citizenship certificates must apply online for digitization of their citizenship.
The website is www.visas.immigration.go.ug
Requirements
Cover letter

Passport size photo

Dual citizenship certificate

Both passports

Payment of digitization fee
4.Certificates of Identity;
A Certificate of Identity is issued to a Ugandan with an expired passport and that one that has lost their passport.
It is a one-way travel document used for travel through the most direct route to Uganda. It should be surrendered to the Immigration officer at Entebbe Airport or any other port of entry upon arrival.
Checklist for a Certificate of Identity application
Completed Form A (Application for Uganda Travel Document)

Completed Consular Registration Form

2 passport size photographs

Police report and a sworn affidavit/statutory declaration before a commissioner of oaths or Notary public in case of a lost passport

Prepaid self addressed return envelope for posting your Travel Document

A money order of 60 CAD payable to Uganda High Commission

Cover letter explaining reason for applying for a Certificate of Identity

Travel Itinerary
Compiled by;
Gloria Batera Kyeswa
Immigration Attaché
Uganda High Commission-Ottawa