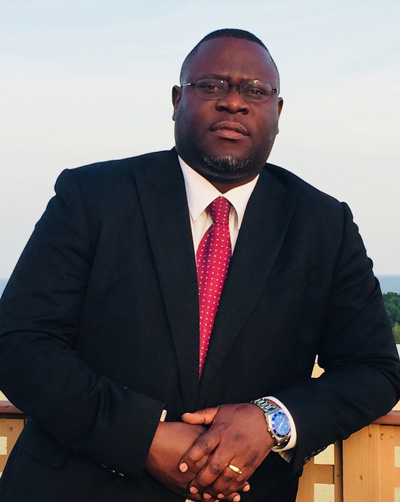 Dear Readers,
On behalf of the organizing committee, it is my honour to welcome you to the 2nd Uganda Canadian Diaspora Business Expo and Convention 2018 edition. I would like to take this opportunity to thank the community members who have helped this organization maintain its success up to this point and their contributions that will certainly benefit the future of our community.
As Chair of UCDN, I am proud to have the opportunity to contribute to this Diaspora Expo and Convention in such a way that reflects our vision of Ugandan's in Canada and the diaspora as a whole.
The success of this Convention is not solely dependent on the executive team, but a collective effort of all Ugandans. Holding a successful business Expo and Convention is ultimately dependent on the many people who have worked tireless during the planning and execution of the entire program.
I do hope you will become part of the Uganda Canadian Diaspora Network and together let us use it as a tool to promote Uganda through business and help build networks within our communities by letting them know what opportunities exist in Uganda and Canada. In addition, we all have a call to action, let us be engaged in the diaspora community activities, to not only create opportunities for ourselves but for others throughout our Ugandan community both in the diaspora and back home. In line with our theme, "Canada, A Bustling New Investment Frontier" Canada sets a unique opportunity for all Ugandans to prosper. This is why UCDN focuses on promoting trade and investment for the economic and social growth of all Ugandans.
We are very excited to bring a diverse group of speakers and panelist from all major sectors to show case what Uganda has to offer and celebrate the accomplishments of the Ugandan Canadian Diaspora over the years in style. We are happy to note that, National Identification and Registration Authority (NIRA), Citizenship and Immigration Departments from the Ministry of Internal Affairs are part of this convention and will be addressing the needs of our diaspora community.
Finally, I would like to thank the RT Honourable Speaker of the Parliament of Uganda, Madam Rebeca Kadaga for accepting our invitation to be our guest honour. Special thanks go to our media partners NBS, Migrate to Canada Group, our Banking Partner Post Bank Uganda, Ministry of Foreign Affairs Uganda, National Identification and Registration Authority (NIRA) Directorate of Citizenship and Immigration Control, and all the private stakeholders who have who agreed to collaborate with us.
Special recognition goes to the organizing committee members, Mrs. Sarah Nagawa Sekalala, Dr. James Lutaaya, Mr. Hamza Muwanguzi, Mr. Richard Lwasa, Mr. Henry Luyombya, Mr. Innoncent Karuhanga, Mr. Zink Kinene, Ms. Solome Nanvule, Ms. Brenda Nakato, Ms. Maureen Ayiekoh and our Event Coordinator Mr. Ronnie Mayanja who have all worked extremely hard to enable the success of this convention.
You are welcome to Toronto and do enjoy your stay!
With gratitude,
John Nalima
Chair